The BOKU (Universität für Bodenkultur Wien, engl. University of Natural Resources and Life Sciences, Vienna) team comprises two institutes from the Department of Water, Atmosphere and Environment (WAU): (i) Institute of Sanitary Engineering and Water Pollution Control (SIG), and (ii) Institute of Soil Physics and Rural Water Management (SoPhy). SIG is emphasising an integrated approach; the research topics include a wide range of disciplines (e.g., water treatment technologies, sustainable water management, measurement and control, aquatic chemistry/microbiology, modelling and strategic planning methods). SoPhy uses and develops experimental and mathematical modelling approaches to advance the understanding of water fluxes and transport in the vadose zone and in groundwater with the aim to protect and sustainably use soils, soil water and groundwater resources. 
Within WATERAGRI, BOKU leads demonstration case studies. Also, BOKU participated in activities related to: (i) farmers engagement, (ii) water retention and nutrient management at the farm-scale, (iii) innovative sustainable water retention and management measures, (iv) sustainability and technical evaluation of proposed innovations and measures and (v) Wateragri framework development.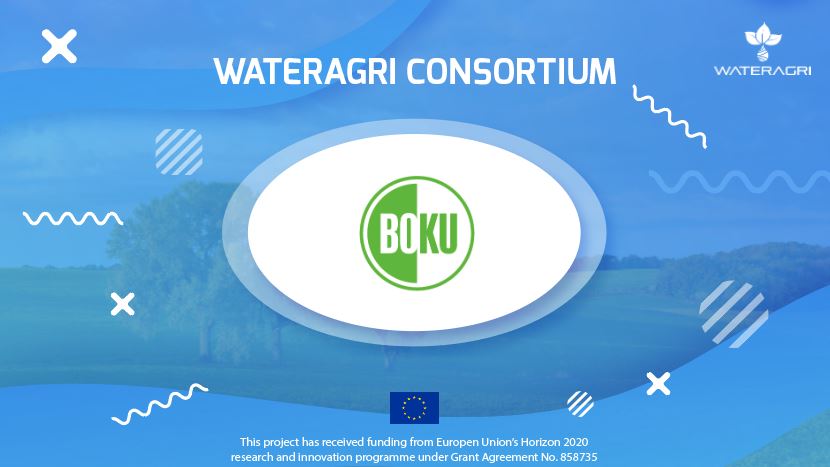 Key persons
Dr Guenter Langergraber (male) is a senior scientist at SIG (affiliated with BOKU since 1997) with a research background in natural water treatment systems, treatment wetlands, and modelling. Dr Langergraber completed his PhD at BOKU in 2001 on the development of a simulation tool for treatment wetlands applied for wastewater treatment. He is a specialist in nature-based solutions with a focus on treatment wetland technologies and experienced in co-ordinating EU-funded projects. Dr Langergraber was co-chair of the IWA Task Group on "Mainstreaming the Use of Treatment Wetlands". Since 2019 he is Head of the Department of Water, Atmosphere and Environment (WAU).
Prof. Christine Stumpp (female) is Professor for Rural Water Management and Soil Physics and Head of SoPhy at BOKU. Her research focuses on the understanding of climate and land use impact on water and matter fluxes in soils and groundwater with the goal to improve the sustainability of water use and manage water resources to maintain ecosystem functioning. Her main expertise is in using tracer methods, particularly water stable isotopes, to identify sources of water and to quantify fluxes and transport processes. She develops and uses experimental and modelling approaches for understanding coupled interactions between hydrological, biogeochemical, and ecological processes.
Dr Reinhard Nolz (male) is a senior scientist at SoPhy. His expertise includes the determination of soil water balance components by means of lysimeters and soil water sensors. He has improved soil water monitoring by evaluating and improving the performance of sensors with respect to calibration, accuracy, and applicability. He develops new sensor-based approaches combined with mathematical modelling to improve the estimation of irrigation water demand and irrigation design.
Ms. Alba Canet Martí (female) is a PhD student at SIG. The topic of her research is directly related with the project (working title of her PhD thesis: "Tracer tests and numerical models as a means to support better management of small agricultural catchments").