UNIBO was founded in 1088 and is considered to be the oldest university in the western world. It covers all the academic disciplines through its 33 Departments and 11 Schools, over 5 campuses. Apart from 85,000 students currently attending to its more than 200 bachelor and master courses (59 of them international degree programmes), UNIBO also has about 1,500 PhD candidates enrolled in its 43 PhD programmes and a permanent staff of 6,000 (including teaching, research and service staff). 
UNIBO will act in the WATERAGRI project through the Department of Agricultural and Food Science (DISTAL) with Prof. Attilio Toscano as the principal investigator. It has a strong commitment to research and knowledge transfer, making it a leading institution in its field of expertise. The research activity encompasses different fields of study, among the most relevant Biological Chemistry, Economics, Engineering, Vegetable Production, Food and Environmental Microbiology, Animal production, Food Science and Technology, with a special focus on the water-energy-food-sustainable agriculture nexus.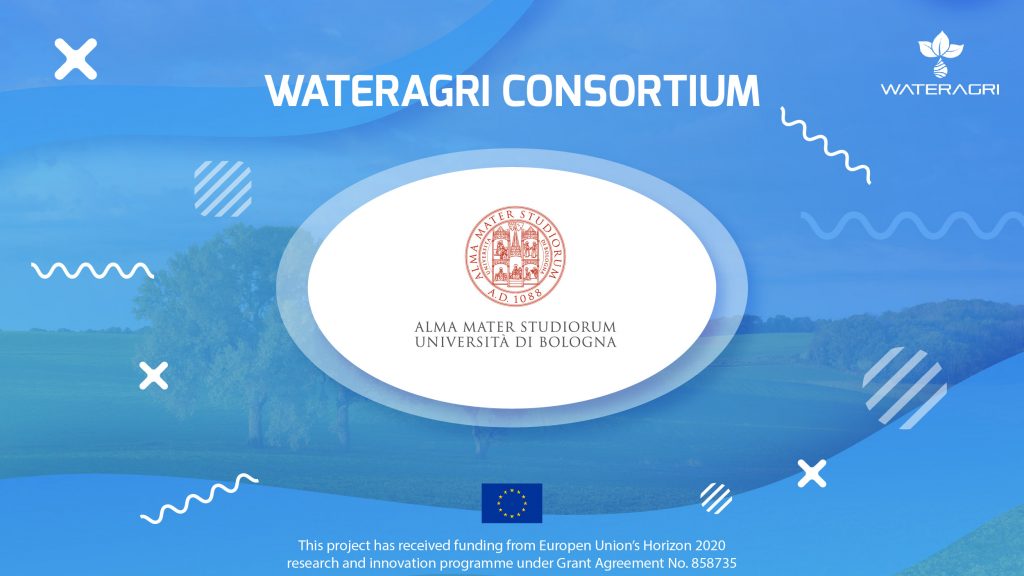 Key persons
Prof. Attilio Toscano (male) is a Hydraulic Engineer, PhD in Environmental Engineering, full professor of Agricultural Hydraulics and Watershed protection at DISTAL. His main experience is on irrigation, water management in agriculture, nature-based solutions for wastewater treatment and reuse. Prof. Toscano is the PI of different national and international projects. He is currently the coordinator of PRIMA FIT4REUSE project and a WP leader of the H2020 SWAMP project. He has authored numerous scientific articles in the water domain.
Prof. Ilaria Braschi (female) is an associate professor in Agricultural Chemistry at DISTAL. She has a PhD in Soil Chemistry and in Chemical Sciences. Her scientific activities focus on the host–guest and guest–guest interactions driving the adsorption and transformation of chemicals of both natural and anthropic origin involved in remediation processes.
Prof. Matteo Vittuari (male) is an associate professor in the Agricultural and Food Policy and Agricultural Policy Evaluation at DISTAL. He worked as an international consultant for the evaluation of EU and FAO funded projects in Europe and Central Asia. He is currently coordinating the behavioral economics WP within the H2020 REFRESH and he is responsible for the H2020 AGRUMIG and coordinated a WP within the FP7 FUSIONS.
Dr Stevo Lavrnić (male) is an environmental engineer and research fellow at DISTAL. His research activities concentrate on wastewater treatment and reuse, particularly focusing on nature-based solutions such as constructed wetlands. He is working on different national and international projects that deal with sustainable water management as a component of a circular economy.
Dr Vincenzo Alagna (male) is an agronomist and research fellow at DISTAL. His research activities mainly concern the soil hydraulic characterization at field and laboratory scales and the monitoring of the soil-plant-atmosphere system for the correct management of irrigation water at the farm. He is working on different national and international projects that focus on water management in agriculture and its use efficiency.
Dr Giuseppe Mancuso (male) is a post-doc research fellow at DISTAL. Dr. Giuseppe Mancuso is a civil and environmental engineer, holding a Ph.D. in Civil, Environmental and Mechanical Engineering completed at the University of Trento, Italy. His research focus is on the application of nature-based solutions to treat wastewater and on the use of reclaimed water for agricultural irrigation purposes.