VTT Technical Research Centre of Finland Ltd is a research and technical development company whose activities are focused on three areas: Knowledge intensive products and services, smart industry and energy systems, and solutions for natural resources and environment.
Within WATERAGRI, VTT leading WP4 on the technical development of nutrient retention solutions.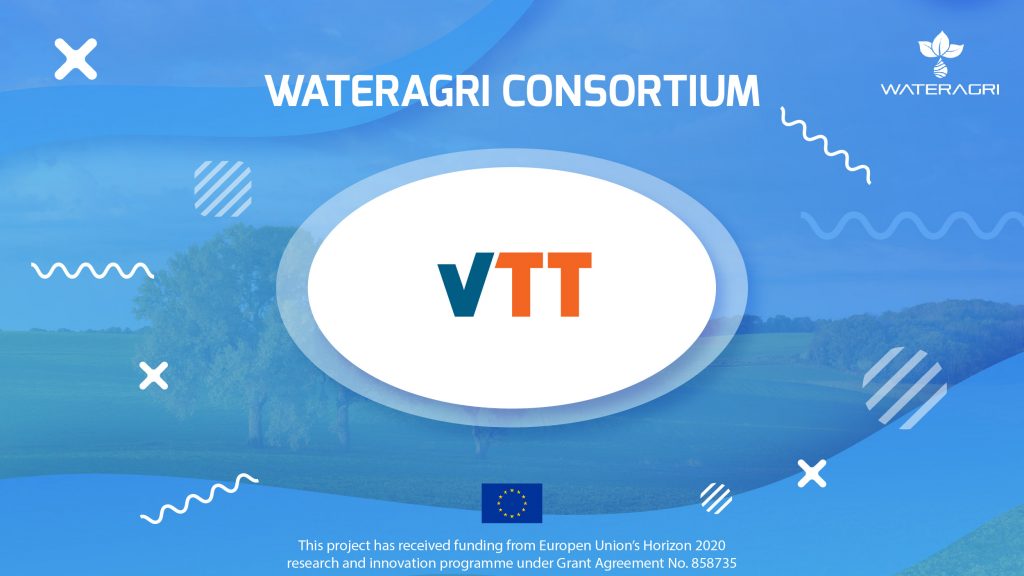 Key persons
Mona Arnold (female), Tech Lic, MBA, is a Principal Scientist at VTT with responsibility for developing Circular economy concepts and sustainable clean technologies. She is especially experienced in water management issues and is a member of the steering group of the European Innovation Action Partnership EIP Water. She is also VTT representative in the European Technology platform for Water, Wsstp. At VTT, she is developing projects and competence in circular economy issues including water recycling and reuse. She has +15 scientific publications and 2 patents.
Prof. Tekla Tammelin (female), D.Sc. (Tech.) is a Research Professor in Biomaterials Engineering and Docent in Bioproduct Technology at Aalto University. She is a VTT Research PI of the national  joint Competence Centre for the Materials Bioeconomy (www.finnceres.fi). In 2020, she earned a respected European Community's H2020-FETOPEN-2019-01 project "FuturoLEAF". Her research aims to bridge the gap between molecular and macroscopic behaviour of complex plant-derived materials and further provide new aspects strategies to construct competitive and viable biomaterial solutions. These concepts include responsive nano-enhanced membranes, gas/vapour barriers and gas capturing materials, versatile immobilisation templates for energy-producing biomolecules, printed electronics and nano-patterned optical structures. She is a main inventor of the recent patent related to the large-scale preparation method for nanocellulosic films. She has published more than 60 peer-reviewed papers and more than 100 scientific meeting proceedings. She received the Akzo Nobel Nordic Research Prize in 2010 in the area of surface chemistry of cellulosic fibres, and in 2016, she obtained the VTT Award on Exceptional Scientific Excellence.
Alexey Khakalo (male), D.Sc. (Tech.) is a Research Scientist in the High Performance Fibre Products team. He graduated from Aalto University in 2017 and he has strong competence in the area of functional cellulosic material developments. He has 15 peer-reviewed articles and received the Heinzel-Mondi-Sappi (2018) and Andritz Oy (2019) awards for his work in the area of advanced structures and compositions for 3D-forming of cellulosic fibers. Currently, he works on academic and industrial projects aiming at development of novel lignocellulosic solutions for various application areas such as high-performance structural materials and packaging. He acts as a VTT project manager of the EU INNPAPER project ((nano)paper-based substrates for printed electronics, which is as H2020 research and innovation programme under grant agreement No 760876.