Statement on the COMMUNICATION FROM THE COMMISSION TO THE EUROPEAN PARLIAMENT, THE COUNCIL, THE EUROPEAN ECONOMIC AND SOCIAL COMMITTEE AND THE COMMITTEE OF THE REGIONS 'A Farm to Fork Strategy – for a fair, healthy and environmentally-friendly food system' and 'EU Biodiversity Strategy for 2030 – Bringing nature back into our lives'
The WATERAGRI consortium welcomes the commitment of the Commission to the European Parliament, the Council, the European Economic, and Social Committee and the Committee of the Regions to strengthen the role of nature in our food-producing ecosystems. We are particularly excited to be able to support the European Union and its Member States in providing them with evidence-based data, information, and knowledge on water and nutrient management at the farm and catchment level scale across the continental, boreal and Pannonian biogeographical climate zones.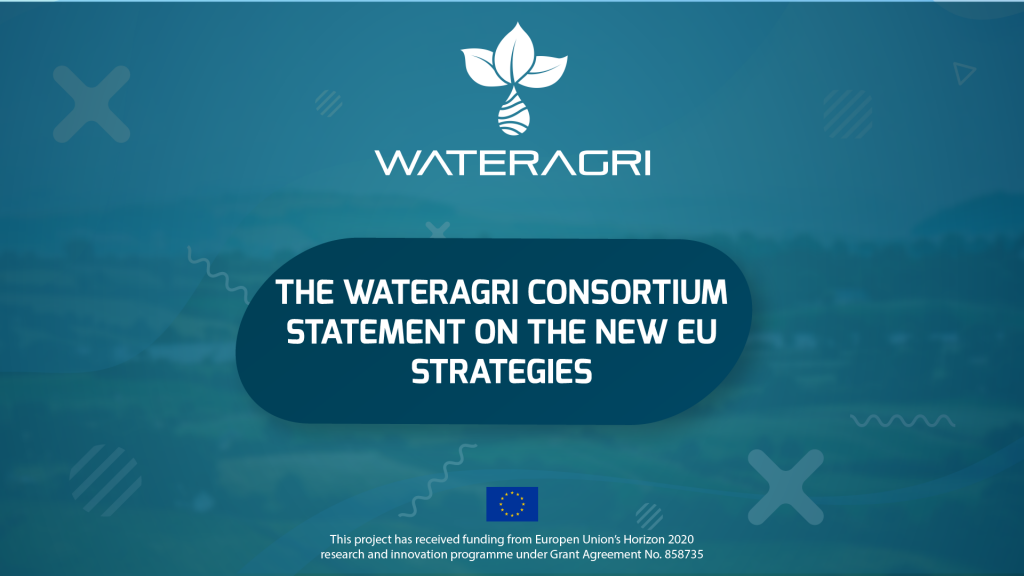 WATERAGRI's goal is to support EU-wide and EU-country-specific agricultural policy towards sustainable agricultural food production and ecosystems. Our multi-actor team intends to do so by providing evince-based case study examples of pollution reduction through efficient nature-based and sustainable technological water and nutrient management options in agriculture that are adapted to local needs. As such the team co-develops the links between agricultural land and soil-sediment-water management for improved management of water excess and shortage alongside farmers, farm managers, agricultural extension officers, and EIP AGRI and WATER Groups, thus maximizing crop production and improving water quality and nutrient uptake by crops. The outcomes of this research can immediately address elements of the EU Soil Thematic Strategy and integrated nutrient management action plans of Member States.
The effectiveness of these measures will be assessed through both technical and sustainability assessments. These can directly feed into Member States' CAP Strategic Plans and their Farm Sustainability Tool for nutrient management. In addition, the consortium members assess climate change adaptation potential of the diverse set of technical measures and modelling scenarios as well as their impact on ecosystems. The results link to the Circular Economy Action Plan (CEAP) and provide evidence for the critical elements of a regulatory framework for certifying carbon removals in agriculture.
---