Founded in Novi Sad, Serbia, in 2014, INOSENS is an innovation driven consultancy focused on value creation in the agrifood value chain. INOSENS brings substantial experience to the diversified agricultural sector, which it has developed by bridging the gap between Information Communication Technologies and the Agricultural Sector. The company heavily relies on various co-development methodologies, adapted in-house to the specific characteristics of the agrifood sector to help companies from the information and computer technology sector to recognize, evaluate and seize upon business opportunities in agrifood. INOSENS builds on key accounts from the agrifood sector and maintains strong and lasting alliances with complementary players (e.g., hardware vendors, agronomists and food scientists). Moreover, INOSENS has a keen understanding of many critical agricultural issues and challenges that farmers face when seeking to grow and elevate their farming performances. INOSENS is actively engaged in pan-European Horizon 2020 Projects as well as in consulting with companies in both Europe and the Middle East on implementing precision agriculture technology and sustainable agricultural business models.
Capitalising upon its personnel's extensive experience in business development, INOSENS will be leading WP8 activities; i.e. WATERAGRI's dissemination and exploitation activities during and beyond the lifespan of the project, as well as business strategy development and promotion. In WP1, INOSENS will provide support to the active engagement of end-users such as farmers.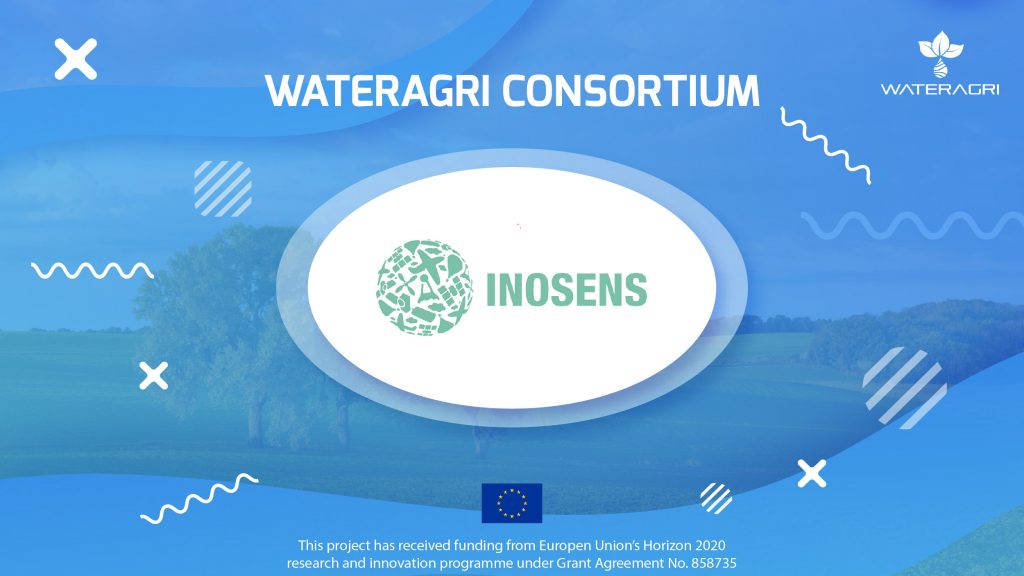 Key persons
Prof. Mladen Radisić (male), PhD, is an Associate Professor at the University of Novi Sad (Serbia), where he teaches in the area of Business and Finance. He has more than 70 scientific publications and is currently a member of the reviewer boards of several scientific conferences and journals. Mladen has been holding various positions (e.g., project manager of Erasmus for Young Entrepreneurs office in Novi Sad and Project Officer at Enterprise Europe Network (EEN) Serbia) and has participated in numerous EU-funded projects (CIP/COSME, FP7/H2020, etc.). He has previous experience in disseminating large-scale projects and the organization of international accelerator programs. His fields of interest are financial and small business management, international project management. Mladen currently holds the position of team leader at INOSENS.
Vladimir Mrkajić (male) holds a PhD in Environmental Engineering from the University of Novi Sad (Serbia). Vladimir's professional background includes academic research as well as civic and journalist activities. He has proven experience in disseminating and communicating the outcomes of environmental policy-related projects as well as in engaging and empowering citizens, civil society organisations, and public authorities to work together. At INOSENS, he works as a business developer on projects related to environmental and agricultural issues. Vladimir is a Communication and Dissemination Manager of the WATERAGRI project.
Danijel Pavlica (male) is a Business Development Consultant & Project Manager at INOSENS, experienced in working in diverse and international teams and managing projects on the pan-European scale from concept to completion. With an academic background in Industrial Engineering and Management, Danijel possesses a broad spectrum of skills to manage complex systems and the competence of combining technical skills with business acumen. Currently involved in several Horizon 2020 projects, mainly working on projects' effective communication, dissemination and exploitation strategies as well as piloting and business modelling.
Dijana Stefanović (female) is a Digital Marketing and Communications Manager at INOSENS, MSc in Engineering Management, specialized in the field of Industrial Marketing and Media Engineering. She has experience in international project management, especially in the area of innovative marketing communication, where she showed how being able to adapt to consumer behavior and new technologies while maintaining a strong customer focus is essential to exceptional marketing. Dijana is involved in several Horizon 2020 projects mainly working on developing and implementation projects' dissemination and communication strategy plans.