Agricolus s.r.l. is a dynamic and innovative product company founded in 2017 and based in Italy, whose main field is precision agriculture. Agricolus originated from the synergy of the combined competences of a group of skilled professionals supported by two firms: TeamDev srl and Aedit srl. Their expertise is based on ten-year international experience in research, analysis, advice and development of applications for agricultural management. Agricolus has a strong focus on technological innovation and a vast experience in precision farming, targeting agroholding companies, association of farmers, small, medium and big farms, and agricultural governmental departments.
Agricolus is a brand and a technology awarded by FIWARE as "Powered by Fiware" and "Fiware IoT Ready" solution and part of the European Technology platform NESSI, DotNetUmbria User Group. Agricolus is also promoting, with other industrial enterprises, GEOCARE, the first Italian supply chain network that covers all the value chain in the precision farming sector. Agricolus is ESRI and Microsoft partner and has received several awards and recognitions for its innovative products and for empowering the use of ICT solutions in the agricultural sector.
Agricolus mission is to support farmers, agronomists, agri-food processors and other agricultural operators in optimizing agronomic practices, by using the most modern technologies of data collection and analysis. The core of the company is a cloud-based ecosystem of precision farming applications including Decision Support Systems (applied to irrigation, fertilization and crop protection), forecast models, smart pest and disease control and remote sensing.
Main Role in WATERAGRI
Agricolus will lead WP2 on Water Resources Management at the farm-scale providing the Agricolus© platform for precision farming. The Agricolus© platform combines environmental data, forecasting models, and field observations in a web-based ecosystem to support farmers and advisers in decision-making processes. A crop irrigation model hosted in the Agricolus© platform will be tested and optimized within WATERAGRI to support farmers. Agricolus will also participate in WP3, WP4, WP5 and WP7.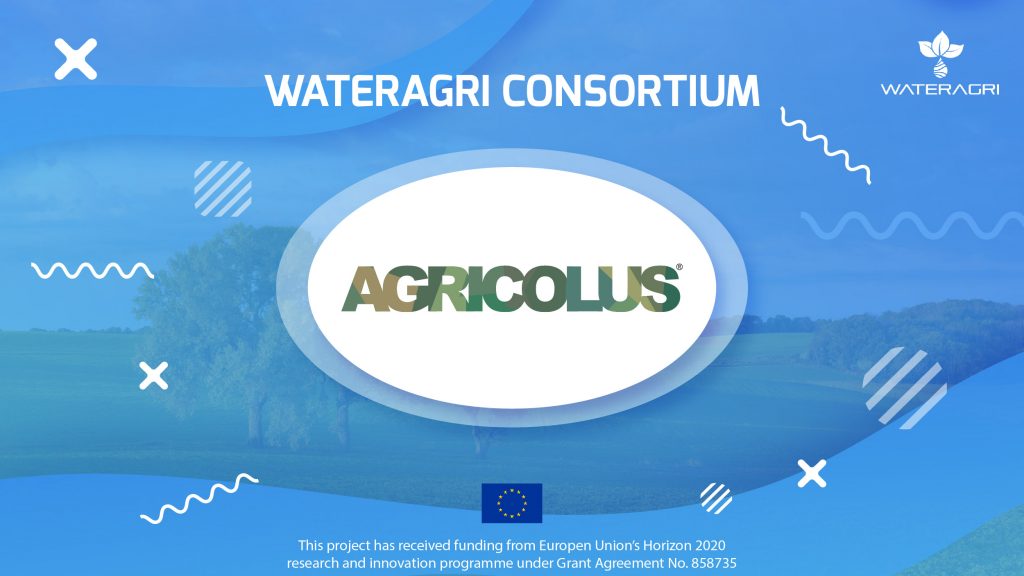 Key persons
Diego Guidotti (male), M.S. degree in agricultural sciences (University of Pisa) and PhD in information and communication technology in agriculture (Scuola Superiore Sant'Anna, Pisa). His main expertise is in ICT development and webGIS technology, designing and testing tools applied to integrated pest management and decision support system in agriculture towards sustainable farming systems. In 2001, he founded Aedit srl, an academic spinoff company of Scuola Superiore Sant'Anna, which has, as its core business, the assistance of the public and private sectors in environmental matters, while dealing with sustainable agriculture. In 2017, he co-founded Agricolus, of which he is head of the R&D sector.
Susanna Marchi (female), M.S. degree in agricultural sciences (University of Florence) and PhD in fruit tree ecophysiology (University of Pisa). As an agronomist and agrometeorological expert, she has been involved in the implementation of decision support systems applied to crop irrigation and fertilization, integrated pest management, monitoring networks, fruit tree phenology and fruit quality and ripening. Currently, she is working in the Agricolus R&D sector to deliver component technologies in operational agricultural monitoring to increase farm-level productivity.
Sara Antognelli (female), PhD in Agricultural sciences. She graduated from the University of Perugia in 2014 with a thesis on co-production of agricultural goods and ecosystem services in the United Kingdom. She received a 2-year research grant for working on landscape gradients and ecosystem services at the University of Perugia, where she achieved a PhD degree in 2018. Her PhD thesis analysed the integration of ecosystem and urban services for spatial planning. During her PhD studies, she increased her expertise in GIS technologies and remote sensing applied to agricultural sciences, and wrote various scientific papers. Since 2017, she works for Agricolus, where she increased her expertise in precision farming. At the moment, she is part of the Agricolus® development team and she collaborates with the Agricolus® R&D team. She is also involved in the Agricolus Academy, and in different projects involving the dissemination and training activities for students and agricultural professionals.
Emanuele Ranieri (male) M.S. degree in Agricultural and Environmental Biotechnology (University of Perugia) and a PhD in Agricultural Sciences (Marche Polytechnic University). As an entomologist and a data analyst, his main interest is the study of vector-borne plant-diseases. He was involved in the study of Xylella fastidiosa epidemiology in California (University of Berkeley) and 'Flavescence Dorèe' and 'Bois noir' in Marche region. During his PhD studies, he increased his expertise in inferential statistics and modelling.
Andrea Chiancone (male) Project Manager in Agricolus in projects related to the development of software products for the Precision Farming, Smart Agrifood, Industry 4.0 and innovative topics. PhD in Mathematics and Computer Science for the treatment of information and knowledge at the University of Perugia, dealing with topics of Artificial Intelligence, Machine Learning, Data Science and GIS Systems. He also served for 10 years as CEO at Esebel s.r.l. (spin-off of the University of Perugia) and has coordinated numerous teams and work groups on projects of international importance.
Daniele Belfiore (male) M.S. degree in information technology. His expertise is in IT development, especially in client-server web services, software production, mobile apps, cloud applications, management software, new technologies scouting, monitoring IaaS/PaaS and databases management. He followed successfully many courses in information security, cloud computing, PL/SQL Database Oracle (INFN CNAF) and Nagios tutorial. He followed workshops and events like PON ReCas School, CCR INFN Workshop and HackInBo. His thesis topic was named "Optimal Gathering of Oblivious Robots in Symmetric Rings" and he performed a lecture at Perugia University about it. He has the EF SET Certificate (B2 level). Currently, he works as full-stack web developer at Agricolus S.r.l.