ULUND is the largest research institution and higher education in Scandinavia, founded in 1666. ULUND is ranked as one of the top 100 in the world and it has 43,000 students and 7,500 employees.
ULUND's Division of Water Resources Engineering coordinates the WATERAGRI project. The team expertise is in water resources engineering/management, agricultural water management, sustainable drainage, and constructed wetlands. ULUND's Agrifood Economics Centre will work with the socio-economic analysis of measures/techniques that are being proposed in the project. The Faculty of Law will assist with intellectual property rights.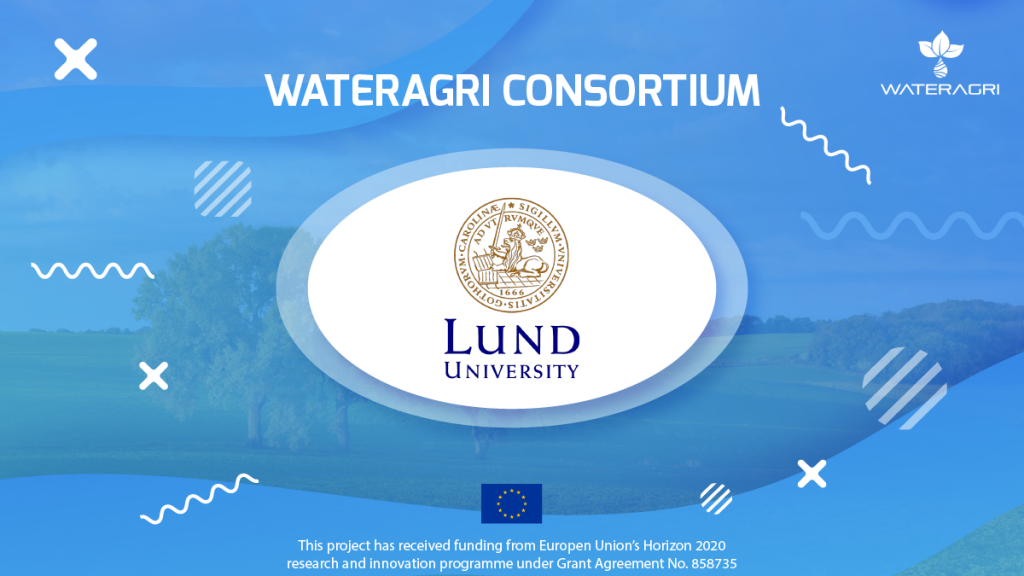 Key persons
Miklas Scholz (male) is Prof. in Water Resources Engineering at Lund University, Sweden. He also holds the Chair in Civil Engineering at The University of Salford, UK. He is a Professor and the Head of the Civil Engineering Research Group in Salford. Moreover, Miklas is a Distinguished Professor at Johannesburg University and the Central University of Technology, Free State. Prof. Scholz has shown individual excellence evidenced by world-leading publications, postgraduate supervision, and research impact. His main research areas in terms of publication output are as follows: treatment wetlands integrated constructed wetlands, sustainable flood retention basins, and decision. Prof. Miklas Scholz is the WATERAGRI project coordinator.
Sebastian Puculek (male), is certified (IPMA) project manager, with experience gained in complex international projects in the field of Research & Development. He has many years of experience working on European markets, in particular Polish, Spanish and Nordic countries. In his career, he coordinated both Horizon 2020 and commercial projects. In the past, he was also associated with the largest European Knowledge and Innovation Node of the European Institute of Innovation and Technology – EIT Climate-KIC, where he played the role of Business Development Lead for Central and Eastern European countries. As part of his duties, he assisted Polish innovative companies in obtaining financing for the CleanTech projects. Sebastian Puculek is the WATERAGRI project manager.
Suhad Almuktar (female): BSc, MSc, Ph.D. (Civil –Sanitary Engineering), a lecturer at the University of Basrah in Iraq since 2009, in 2007 Dr. Almuktar, received the Gold Medal in Research, awarded by the Iraqi Ministry of Higher Education and Scientific Research. In 2013, she won an Iraqi Government-funded scholarship to study for a Ph.D. at the University of Salford, Manchester, UK. Her primary interests include wastewater management by treating and recycling using sustainable technologies, especially wetlands. Since 2015, Dr. Almuktar has served as a Research Fellow in the Civil Engineering Research Group, School of Computing, Science and Engineering, University of Salford. Dr. Almuktar has shown individual excellence evidenced by world-leading publications, supervision, and research impact. Her main research areas in terms of publication output are about water resource management and wastewater treatment using sustainable technologies such as wetlands and subsequent recycling of the treated effluent for various purposes mainly for irrigation aiming to recycle the nutrients (N&P) and trace elements in the wastewater for the agriculture sector. About 90% of each of her research is in wastewater treatment and water resources management, respectively. She has published chapters in books and more than 20 journal articles and participated in more than 18 international conferences. Dr. Almuktar has total citations of 216, resulting in an h-index of 10 and an i10-index of 10 (May 2020). Suhad Almuktar is the WATERAGRI Data Manager.